International Indigenous Tourism Conference - Essay Contest
---
Essay Contest – IITC 2018
Open to Cree beneficiaries only:
A chance for two people to WIN a trip to attend the 2018 International Indigenous Tourism Conference in Saskatoon, Saskatchewan on October 30-31, 2018.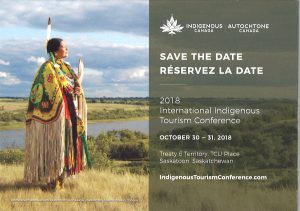 A community-led, industry-driven, international tourism conference
Brings together Aboriginal and non-Aboriginal tourism entrepreneurs & community leaders
Sharing best practices, networking, breakout sessions, keynote presentations and local cultural experiences
Closing event is the 2018 Aboriginal Tourism Awards Gala
How to enter:
Write and submit a 500-750-word essay and tell us about one or more of the following topics:
What interests me about the tourism industry?
What is my experience working in tourism in Eeyou Istchee or abroad?
Why I should be selected to attend the International Aboriginal Tourism Conference?
What are my future plans with regards to tourism in Eeyou Istchee?
The winning essay will be published in COTA's newsletter next fall and the winner will also be asked to write a short article for the COTA newsletter following the conference.
Please note that only the selected winner will be contacted. For questions, please call Louise Mitchell, Interim Assistant to the Executive Director at (418) 745-2220 ext. 4225.
**DEADLINE EXTENDED**:  August 24, 2018
Please email your essay, with your name and telephone number to COTA at: lmitchell@creetourism.ca